How to Distinguish True and False Hydraulic Cone Crushers
The hydraulic cone crusher is a successful invention in the mining machinery industry which is favored by its high working efficiency. Nowadays there are many cone crusher manufacturers calling themselves with the ability of producing advanced hydraulic cone crushers. It's been reported that many of these companies are lying about their products. Here our experts will teach customers how to distinguish between the true and false hydraulic cone crushers.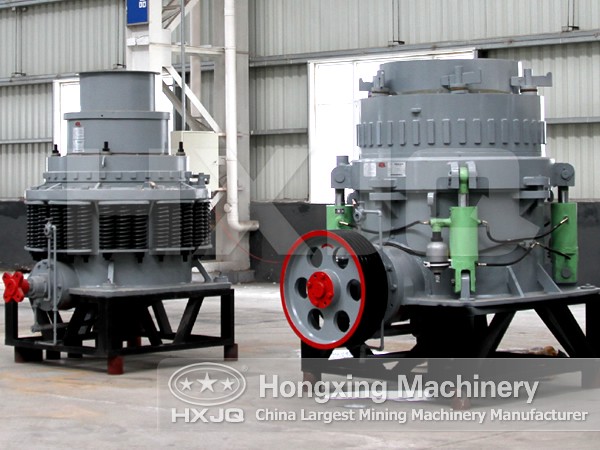 In the market, there are two common hydraulic cone crushers with the similar appearance that is hard for users to tell the difference. However, their inner structure and working principle are quite different. Speaking of the true high quality hydraulic cone crusher, we mean that machine with its main shaft fixed on the main frame of the crusher. Its eccentric bushing rotates around the main shaft to drive the moving cone to do the pendulum movement. This crusher is the real hydraulic cone crusher with the other name of the multi-cylinder hydraulic cone crusher.
The other type of cone crusher, namely the fake hydraulic cone crusher, adopts the integrated main shaft and moving cone structure. The eccentric bushing drives both the main shaft and the moving cone to so the pendulum movement at the same time. This fake multi-cylinder hydraulic cone crusher actually is transformed on the spring cone crusher by changing its external security structure.
Users should remember that the true hydraulic cone crusher has features of small size, high loading power, high revolving speed and high working efficiency. Its high reduction ratio and perfect finished products can make the fake or false hydraulic cone crusher pale by comparison.
E-mail:market@hxjq.com

Thank you for your interest in Hongxing Machinery. If you have a question about our products, we'd like to hear from you. Please fill out the email form below or call us directly on +86-371-67833171. Rest assured we won't share your name, address or phone number with anyone. We're passionate about our company and want to help any way we can. Thanks for taking the time to get in touch with us.