New Plants Appear to Handle the Precious Metal Ores
The silver ore and gold ore are the two common precious metals in the mining industry and to realize the successful ore beneficiation of the two metal ores is not an easy task for many enterprises. Hongxing has created our own high end production lines especially for the two kinds of ores, namely the silver ore beneficiation plant and the gold ore separation plant.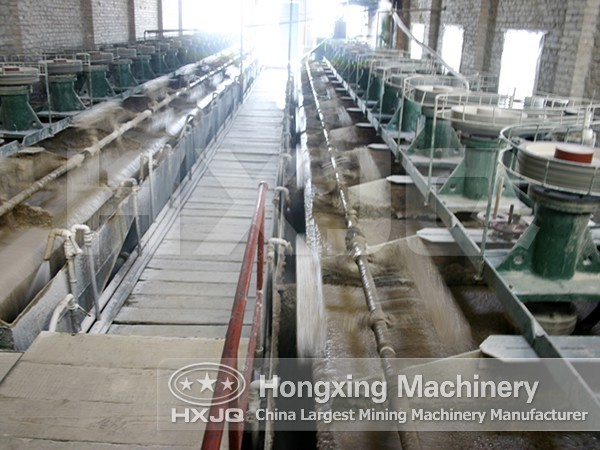 The silver ore beneficiation plant is made up of jaw crusher, hammer crusher, dry-wet ball mill, ceramics ball mill, magnetic separator, flotation separator, spiral classifier, drum sieve, high frequency screen, chute feeder, rotary dryer, and mixer etc. Our company, as one of Chinese most advanced ore separation plant manufacturer, has developed two high efficient methods for the silver ore processing: the flotation separation method and the cyanide processing method. Which method should we adopt is based on the composition of the minerals consisting of silver ore.
Hongxing is also regarded as the advanced gold ore separation plant manufacturer in China and the gold ore beneficiation plant is made up of jaw crusher, ball mill, classifier, flotation separator, adsorption tank, concentrator, dryer, feeder, elevator and conveyor, etc.
Our gold ore beneficiation plant is divided to the flotation gold ore beneficiation plant and the gravity gold ore separation process. Our experts have spent years in doing research and development on the latest physical gold ore beneficiation technology. The promotion of our technology can not only help to save much human labor, but also to improve the environment. The non-chemical processing method also saves much cost for the gold ore industry.
E-mail:market@hxjq.com

Thank you for your interest in Hongxing Machinery. If you have a question about our products, we'd like to hear from you. Please fill out the email form below or call us directly on +86-371-67833171. Rest assured we won't share your name, address or phone number with anyone. We're passionate about our company and want to help any way we can. Thanks for taking the time to get in touch with us.